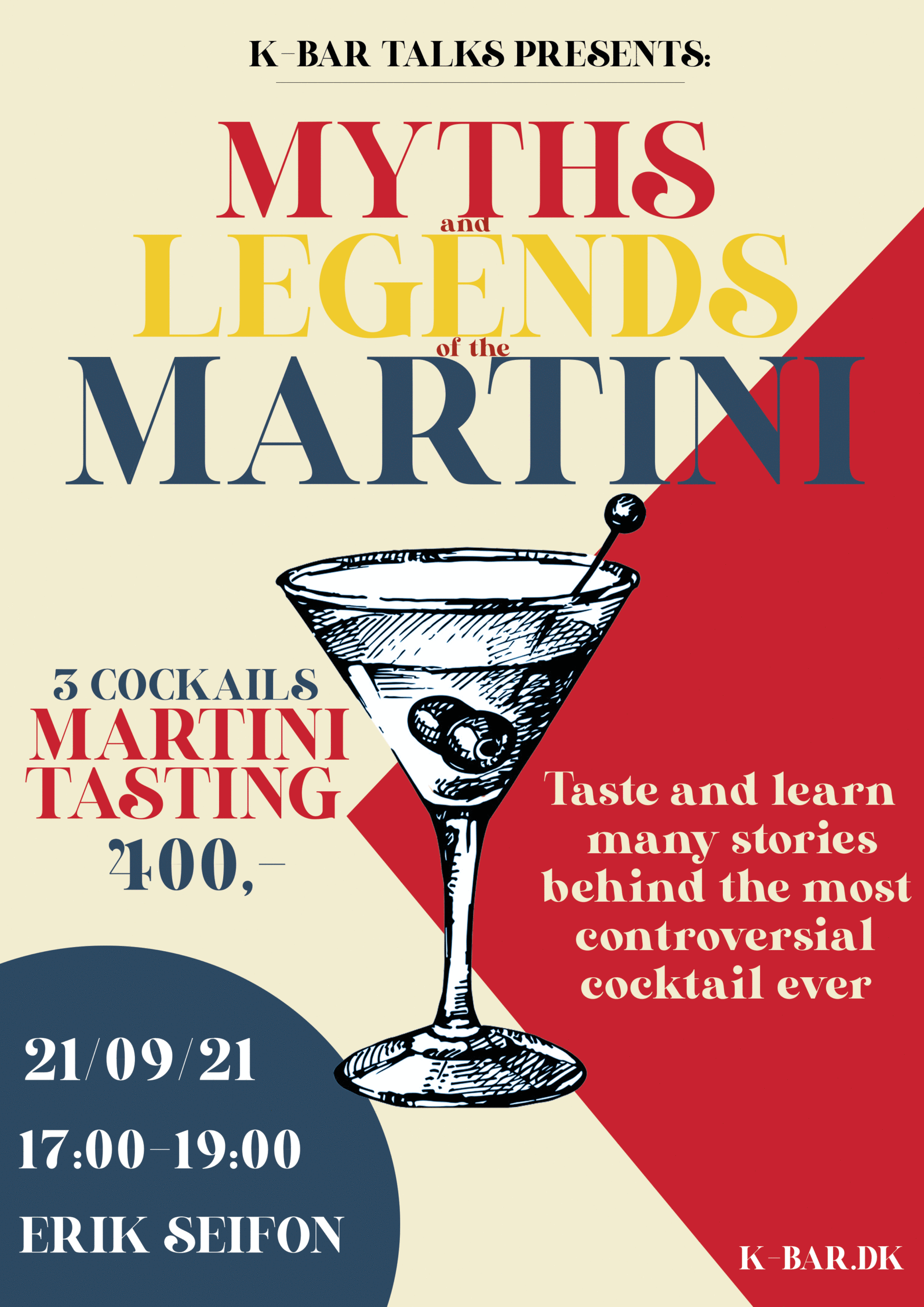 Martini Tasting with Erik Seifon
The myths behind the Martini are plenty. K-Bar Talks is going to surprise you with the stories behind this legendary drink, and you get to taste 3 different Martini versions guided by Erik Seifon.
Martini has played in popular culture ever since its invention in 1849, or maybe it was the 1880s, or possibly 1906, who knows?  It might involve stories of gold miners going to the bar after striking it rich. Or was it because of a Rockfeller in a hotel in New York? Why and when did the name change from Martinez to Martini?
Whatever version you heard, it was definitely NOT concocted by Agent 007, who ordered his "shaken and not stirred" in Ian Fleming's 1958 novel "Dr. No.
The Event
You will taste 3 different Martini Cocktails. You'll leave with more than the usual James Bond story to tell the next time you talk about your favourite Martini.
Martinez
Dry Martini
Martini Twist – a secret choice for the event
Experience the evolution of the Martini guided by Erik Seifon .
Schedule
16:45 – Doors open
17:00 – Event begins
18:00  –  15 minute break / Set for Q&A
19: 00 – End of event
---
Cancellation policy:
We are sad to see you go, but if you change your mind and you can't come to the event, we can offer you a full refund if you email kirsten@k-bar.dk  NO LATER THAN the 20th of September before 13:00  – Email title: "Cancellation MYTH MARTINI" with your name/surname. All e-mails received after this deadline, won't be refunded.